As a business owner, you want a great logo, designs that attract the right attention, and communications that pull everything together in one package so that your customers fall in love with you and your business. There is a lot of noise out there and sometimes it's hard to make yourself heard above it all but you need to stand out. And stand out you will!
My Core Values
I strive to continuously provide high quality, elegant and inspirational designs that elevate my clients' businesses and arm them with the confidence to grow their business and attract their ideal clients.
My goal is to give all my clients' projects the attention they deserve and to make sure the process is easy for them.
Branding is one of the most important investments a business can make and it is so important to tell your unique story and look as if you are taking your business seriously.
I work closely with my clients to get to know their business, get to know them, their perfect customers and their competitors. Only then will I put pencil to paper and begin creating a unique brand identity.
Some helpful hints
A good place to start is to:
Identify three words that you would like to have associated with you and the work that you do
Identify three words that you would like people to associate with your visual style
Finally, identify three words that you would like people to associate with the experience of working with you.
These words are your core brand values and they frame the story of you, your business and your brand. Focus on being consistent with your brand values in your storytelling, consistent with your visuals and your marketing efforts and your ideal customers will find you.
When it comes to your business, can you afford not to invest in your brand?
Wouldn't it be great if you had a designer who knows what it's like to be you?
Someone who can translate the unique ideas in your head into stunning visuals. A designer who specialises in creating custom brand identities and websites that stand out in a sea of businesses vying for attention.
And someone who hits every deadline, and gives you everything you need to communicate your brand in a compelling way that feels more like YOU. After all, you are your brand, and there is no one quite like you.
Luckily, that brand designer has a name!
I'm Karen Blake and for as long as I can remember I have wanted to make the world a prettier place. All I ever wanted to do was be a designer, from a very young age.
In 2004 I launched a full-service marketing agency – 2 Hot Marketing – with its roots firmly entrenched in creative services for print and web for the hospitality sector and helped a large pub chain launch its premium brand. I have grown my team with that business and have some amazing people now working with me.
However, I wanted to offer exclusively branding and design services as well as marketing services, due to client demand, so in 2016 I launched this side of the business and focused on providing brand styling and web design for entrepreneurs like me.
I have worked with a number of different sectors and industries, having been head of design for a large retail chain, a packaging designer for the FMCG sector and in-house designer for blue-chip companies and government departments. During my career, I have designed everything from crisp packets to coffins!
My passion lies in brand styling and web design for ambitious and brave entrepreneurs.
I have been where you have been, I have felt your frustrations, I know what it's like to run a business, build a brand and stand out from the competition by creating a brand you can be proud of. 
I run my studio from the beautiful Warwickshire countryside, just outside Coventry and in the middle of the Kenilworth Greenway. Why not book in a call with me and chat about your branding and see what magic we can work together?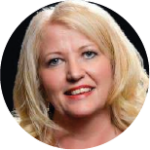 Karen certainly takes care of the details and making you look great. I would highly recommend working with Karen, as business grows she can expand your marketing and help to accelerate your business.
Sue Roberts
Advanced Healing Therapies
As Chief Everything Officer, Karen does actually what she she says does and delivers on time and to budget! A pleasure to work with and we have now completed a few design projects together.
Tim Cooper-Cocks
IC Wealth Management
Karen offers a professional service, she listens well to the brief, delivers timely and is a delight to work with. I would highly recommend Karen to everyone in my network, my family and my friends.
Rachel Wade
Opt HR