Service: Branding, Stationery, Social Media Graphics
Vibe: Art Deco with a modern twist
Top of The Rock Tuition is an ultra-cool drumming school, which was about to open in Warwickshire.
The client wanted to go for an Art Deco vibe with a modern twist for the interior of their school, and it looks amazing if you get a chance to check them out! I used this as inspiration for the branding and all their marketing materials.
The client was savvy enough to create their own website so they didn't need my help there but I was able to provide them with the tools they needed to ensure their website stayed consistent with the branding and they have done an awesome job!
Working on Art Deco as the overall inspiration, the mood board shows colours of black and gold, with complementary colours of navy and teal.
Textures are of aged wood, contrasted by clean lines and classic Art Deco geometry.
The overall impression is one of 1920s decadence with a modern twist.  The brand needs to convey a sense of high-class tuition, exuding trusted experience but with excitement at its core for the target audience to really engage with.
Shapes are round, to convey the shape of a drum, with sharp lines emulating the top of the Rockefeller Center, which is the inspiration for the brand's name.
Customers need to feel that the brand is well established, which reflects the impressive experience of the owner, and that they will get a high level of service.
Typography is pure Art Deco, with a modern slant, calling on American speakeasies of the early 20th century and classic Parisian inspiration.
I began by trying out some of the Art Deco and decorative fonts and decorative elements that I felt might work for this brand and narrowed it down to some preferred versions.
Version – Concept 1
Taking a colour palette of gold, white and black, I put together this concept shown opposite, which encapsulates the Art Deco feel but also gives a modern slant on this timeless classic in design.
I always start logos off using just black and white, as every logo needs to work in black and white first before we add a colour palette.
I have kept elements to a minimum in order to focus on the brand's name and provided a couple of different concepts within this overall concept.
Version 1 – Concept 2
Using the round shape of a drum as inspiration, I then worked on a more geometric concept which still reflects the classic Art Deco look and feel but the typography is more modern, yet classic at the same time.
A rounded logo is a very versatile shape, in that it works on just about every medium and doesn't need to be altered for social media profile images. It can be applied anywhere without losing the brand or compromising it.
Keeping the colour palette of black, white and gold, which reflects this brand very well, I worked on a couple of different concepts where the text colour is concerned, giving a choice of gold or white.
The geometric lines I have given a metallic feel, to reflect the metalwork of a drum.

Version 2 – Concept 1
Taking some elements from Concept 1 and applying them to Concept 2 and its round shape, along with an initially rejected (by me!) concept for the 'of the'. This design can also be used without the background where a simplified version needs to be placed.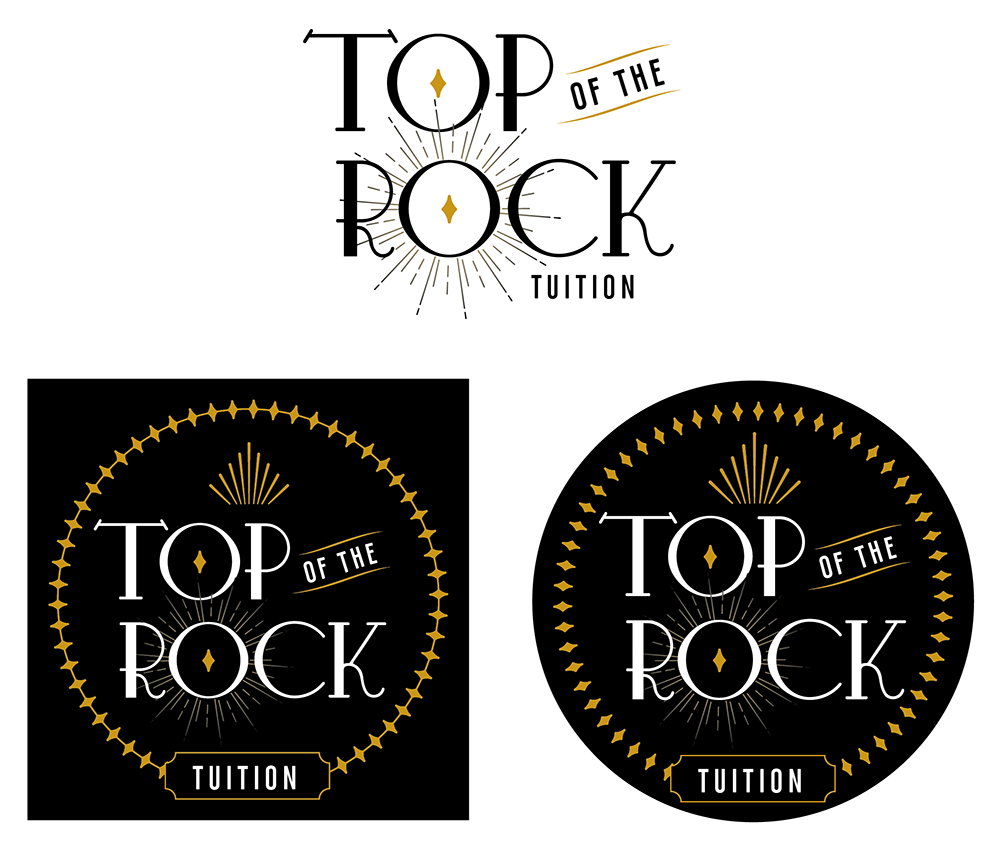 Version 2 – Concept 2
Keeping the typography from Concept 2 but adding a small element from Concept 1, presented as both a square and a round black background design. As Concept 1, this design can also be used without the background, as the typography is quite strong.
Version 3 with gold type and white diamonds.
And here is the finished logo!