Don't just take it from me. Read what my clients have to say!
"I have been working with Karen over the last few months on branding and design for my new company logo and brand, and rebranding my current logo.
Karen helped with the concept and ideas and presented several options. During the process, Karen was extremely supportive and, most importantly, patient, as I can be indecisive.
I am extremely pleased with the logos and work produced and will be using Karen for leaflets and other promotional work in the future.
I have unreservedly recommended Karen to others and will continue to do so, she is simply great!"
Stephen Grinnell, InterX Pain Clinic
"Working with Karen was fantastic. I spent ages trying to design my own logo before I was introduced to Karen.
We started with a number of my disjointed ideas and finished with a logo that incorporated my initial concepts with her own flair.
I couldn't be happier with the final product and she will be my go-to recommendation in the future."
Ryan Johnson, Biomly
"We recently needed a set of brochures producing at short notice. Karen jumped at the challenge and did an amazing job. She worked very closely with us on the design and quickly made any alterations as requested.
She was on hand to call, and her input with regards to information for the brochures has been helpful. She also provided an unbiased view on creating content which would best catch the eye of a potential customer.
Just a massive thank you to Karen Blake for her creative eye, efficiency, professionalism, attention to detail, and for delivering a brief as requested."
Rekha Haughton, Director, Contact AI
"I just wanted to take this opportunity to thank you for all you are doing and continue to do for me with regards to the design and delivery of my wedding stationery.
From the initial design briefing in the Creative Cabin, during which you listened to my thoughts and asked appropriate questions that enabled you, in my opinion, to hit the brief first time around, through to the sourcing of appropriate suppliers and materials, you have diligently looked after every aspect of the design delivery process.
The designs were produced well in advance of our discussed schedule and my last-minute tweaks have been accommodated within an hour of me requesting them.
As a creative person myself, I realise I can often be a difficult client to manage, but throughout the process, I have felt my thoughts have always been considered. But most importantly to me, you have applied your endless knowledge and experience to reach an outcome I am beyond happy with.
I would wholly recommend Karen to anyone requiring any creative input, whether that's in relation to their business or on a personal design project. She is enthusiastic, reliable, has amazing contacts and her creativity really has made my wedding stationery stand out like a flamingo in a flock of pigeons!"
Laura Wagemakers, Director, Callingham Architects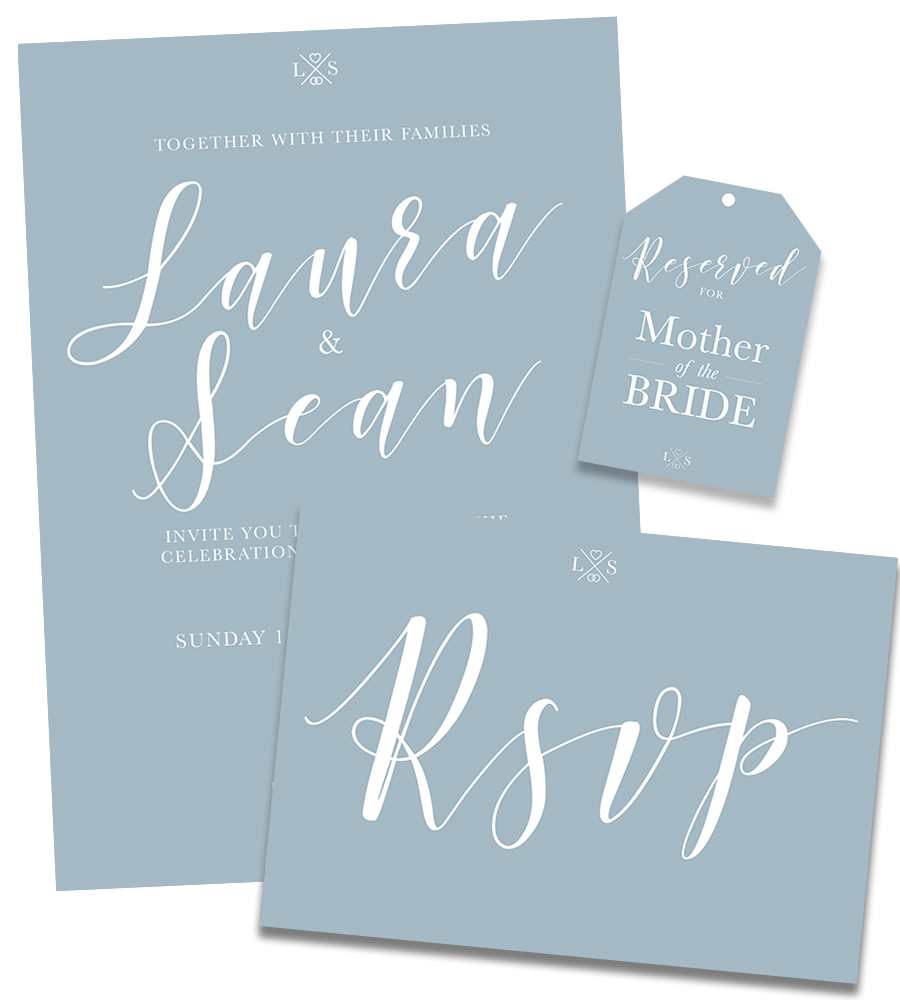 "I am just writing to say how pleased I have been when dealing with Karen.
We required a logo for a new brand that we are launching and I met with Karen to discuss what we needed.
Despite only having a name for the brand and no other ideas, Karen asked probing questions to be able to build a profile of how we wanted the brand to be represented.
Karen was able to make suggestions in regards to the style of font, colours and general feel of how the brand would work across the various types of media that it may be seen on.
Karen had a tight deadline to work to, which she met. We were presented with a number of different options, all being extremely credible.
Upon selecting the one we wanted to proceed with, we were provided with a number of different formats of the logo, which we will use to promote our new brand.
Overall an excellent service was provided, I would have no hesitation in recommending the services provided by Karen Blake Branding + Design to anyone, I will definitely be using her in the future."
Paul Woodford, Coversure Insurance
"I recently asked Karen to do a rebrand of me!
While I had some idea of what I wanted, Karen has managed to take a bunch of words from me and produce some fabulous visuals, that absolutely match what I want my brand to be about.
As well as great design, Karen is extremely personable, easy to get on with and has made the whole process very easy, submitting drafts, discussing them with me, and making alterations very quickly.
I have been impressed with Karen's timely completion of the work, and on the whole openness of approach, even down to the design guides I received listing all the different packages and prices, upfront, straightforward and honest!
I look forward to working with Karen more in the future as things progress, and can highly recommend Karen if you are looking for design work."
Andy Edwards, TimeSmart
"As a high-end Kitchen & Bathroom studio, we annually exhibit at the Home Building and Renovation Show at the NEC in Birmingham. Previous years have had mixed results with the marketing activity after the event; especially as we recognised many leads had no doubt met with many suppliers on that day.
This year, however, we engaged with Karen Blake to produce us an online media pack and open day invite to email to all leads captured at the show. This meant we were able to remind the client who we were, what we did and how we could be of benefit to them while they undertake their home renovation project.
The media packs Karen generated present us in the most professional light and stand us apart from our competition. We now use them to send out to all leads prior to their appointment in the showroom so the client has a better understanding of the people behind the design. And, as we know, people buy from people!
I would not hesitate to recommend Karen to family, friends, and colleagues and I will continue to use her on projects going forward.
Karen truly has made us a 'flamingo in a flock of pigeons.'"
Belinda Dangerfield, Design Director, Qudaus Living